Zip lining is widely offered in Orlando and the surrounding Central Florida area by many different companies. Some of the more popular companies amongst locals include Zip Orlando and Orlando Tree Trek Adventure. These two are located within a ten minute drive from Walt Disney World, and include different zip lining packages according to age and preference. Zip lining is also offered on a smaller scale by Gatorland and the Central Florida Zoo.
Zip Orlando offers 8 different courses all suspended at 65 feet off the ground. Zip lining adventures can be customized to last anywhere from 1 to 3 hours. Zip Orlando also offers special packages such as the Sunday Sunset Tour and the Moon Zip Night Tour. Orlando Tree Trek Adventure, on the other hand, gives you the opportunity to zip line above the treetops. Courses are lined with various obstacle courses lined along the way including suspended bridges and swinging nets. Four different intensity courses are offered, and take an average of 3 hours to complete. Visitors can experience Orlando Tree Trek. Reservations are needed in advance for both Zip Orlando and Orlando Tree Trek Adventure.
Interested in this tour? Book it here.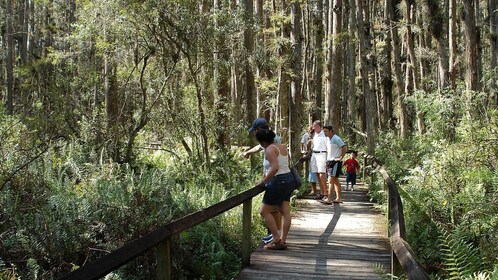 per adult
Free cancellation
Book
Zip Lining in Orlando
Opening Hours: 11:00 - 17:00 (Closed Monday and Tuesday)
Address: 4509 Orange Blossom Trail, Kissimmee, FL 34746
Tel: +1 407-808-4947
Rate This Place:
( votes)